Stainless steel storage tanks, mixing tanks, process vessels
Mixing tanks stainless steel, Vessels up to 1000L
| | |
| --- | --- |
| Stainless steel (mixing) tanks: | MXT series |
Stainless steel mixing tanks with agitator for various applications.
For dissolving and mixing powders, dyes and additives or for keeping your product or suspension homogeneously mixed.

Frank Berg industrial supplies delivers high quality stainless steel tanks
with a matching agitator and can be equipped with various options such as:
- Lid fixation module, this allows you to fix the lid when it needs to be kept open.
- Tank on wheels, depending on the type of tank,
these will be industrial wheels or Food grade wheels
- Forklift module, makes the tank movable with a forklift.
- Welded liter scale
- Sight glass in the tank, to follow the process or keep sight of the level in the tank.
- Double walled tank, for heating or cooling of the tank max. 0.5 bar
equipped with pressure relief valve and connections.
- Tanks can also be provided with additional connections,
supplied without agitator or with open top.
- Standard with Ball valve or Butterfly valve

In our series of MXT-FOOD tanks the welds have been ground to smoothness < Ra 0,8

All these stainless steel tanks are manufactured from AISI 316
Available in 50L, 100L, 200L, 300L, 500L, 1000L & 2000L capacity.
Stainless steel mixing tanks available from stock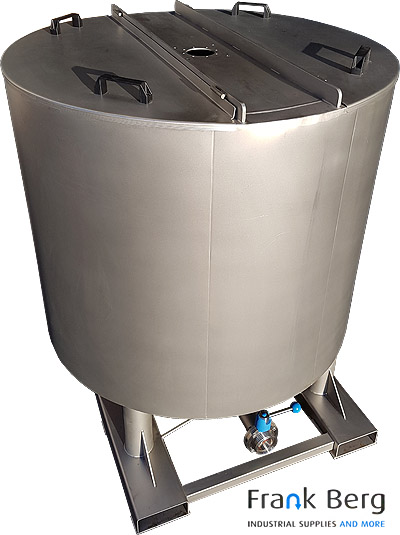 500L insulated stainless steel tank with 2 lids
Capacity:
500 liters
Material:
AISI 304 outer tank / AISI 316 inner tank
Wall:
Single walled, insulated with 50mm rockwool, weld finish
Bottom / Outlet:
Dished bottom with DN50 butterfly valve DIN11851
Top:
2x hinged lid with agitator bridge in center
Finish:
Pickled and passivated
Construction:
On feet with fork lift module
Availability:
Tank available from stock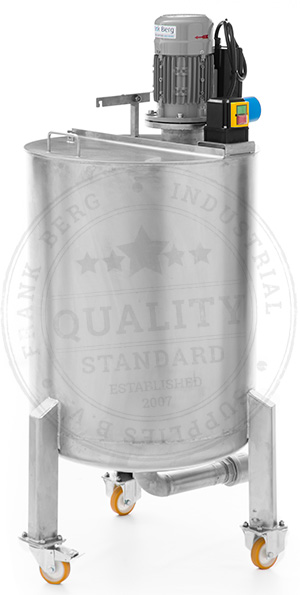 200L single walled stainless steel tank type MXT-CHEM
Capacity:
200 liters
Material:
AISI 316
Wall:
Single walled
Bottom / Outlet:
Dished bottom with DN50 ball valve
Top:
1x hinged lid with agitator flange
Finish:
Pickled and passivated
Construction:
On 3 feet with wheels
Availability:

Tank available from stock
Other products for IBC containers